The women's casual wear category in India has broadened from basic salwar-kameez and jeans and T-shirts to designer wear with emphasis on styling and comfort. With rising incomes, passion for fashion and need for comfort, this segment has evolved greatly over the last few years and is poised to grow even more in the near future. And who better to understand the business of women's casual wear than the women who wear it? IMAGES Business of Fashion brings you women leaders in the casual wear and lingerie retail segment in India who are making a difference and are crucial in building successful businesses.
Geeta Singh, Founder, Chic Woman
Geeta Singh started her career in 1980 with Hindustan Diamond Company. Soon, she left the job to join the family business - A Klass Fashions. She introduced Chic Woman in 1987 and since then there has been no looking back. Slowly and gradually, the brand started gaining strength in the market and it was the only brand that off ered women 100 percent cotton lingerie. Her role as a leader, motivator and visionary has been very pivotal to the brand. Apart from this, she also designs the products for the brand. Presence of The Brand: Chic Woman has a presence pan-India. It has dedicated dealers in cities like Mumbai, Hyderabad, Delhi, Chennai, Ernakulum and Bengaluru. Now, it is looking forward to expanding its presence in Tier II and III cities. USP: The USP of the brand is that its products are made keeping in mind the 24-hours comfort for consumers. It is known for its full-size fit innerwear. Product Innovations: Keeping comfort levels in mind, the brand uses soft inner elastic near waist and legs and it further helps in keeping synthetic material away from the skin. Revenue Targets: This fiscal, the brand is eyeing a revenue jump of at least 10-15 percent.
Ayushi Gudwani, Founder and CEO, FableStreet
Ayushi Gudwani holds an MBA degree from IIM Calcutta (Silver medalist) and a BE in Electronics Engineering, from NSIT. She has worked previously at McKinsey & Co for over 7 years, in India and South East Asia, consulting various global organizations on strategy and scale up, before starting FableStreet. Her interests include reading and dancing and she has recently ventured into fitness and cross-fit. Presence of The Brand: FableStreet primarily sells online through their website (www.fablestreet.com ) and deliver to 10,000+ pincodes within India and all countries worldwide. The brand has a strong customer base in US, Australia, UK, Dubai and Singapore. Its is looking to rapidly expand now. In terms of categories, it has just launched accessories and plan to add more apparel categories i.e., evening wear, maternity work wear, and adjacent categories like shoes etc. Further, it is looking towards expanding the presence in online marketplaces along with entry into multi-brand outlets, guide stores, shop-in- Shops, and more. It also plans to enter into the offline retail space via exclusive concept stores which will enable consumers to experience FableStreet. Product Innovations: FableStreet approaches product development through R&D on fabrics, fits, strength, etc., (in addition to design) which enables its garment to fit well, look great on customers and last longer. USP: • Custom Fits with 3 measurements only: By using a 'three-body measurement' algorithm (chest, waist, hip) along with height, each product is made-to-order and personally curated to fit the needs of every body type. It has more than 10,000+ body measurement data, which enables it to extrapolate 20+ garment measurements using 3 body measurements only. • Style, Comfort & Fit in one garment: In contrast to other brands that have offer either of three components in a garment; it offers them all as package since it understands that it is a basic need for the customer. • Feminine & Stand-Out Cuts –Collections: offered by other professional wear brands take inspiration from the male dominated work wear industry. FableStreet understands that men and women perceive work wear very differently and thus the designs incorporate that. • 3-Day Delivery of Bespoke Fits: It has built strong back-end operations that enables it to scale and deliver bespoke fits in three-four days, unlike other bespoke brands that ideally take two to six weeks for delivery. • Designer Work-Wear: It is the first brand to introduce and build designer work-wear as category in the Indian market. • Personalised Customer Experience: It curates unique personalised shopping experience for all the customers (even giving styling tips when needed). Revenue Targets: In terms of sale, it is growing 3x every year over past 2 years. For the current fiscal, it intends to grow the revenue 3-4 times and widen the range of categories available. In addition, by end of the year, it will be available in offline and online channels both on their own website and marketplaces.
Neerja Lakhani, Founder and Director, Inner Sense
An entrepreneur with more a decade's worth of experience in the fashion industry, Neerja Lakhani is a creative powerhouse with a keen sense of contemporary aesthetics, business acumen and retail strategy. She strongly believes that a great business is one that offers a solution to a problem. While pursuing her passion for creating exceptional brands, she observed that the market is full of products that are trying to retail trends, but at the base of trend-based clothing is the hard reality of sweat-shops and exploitation of labour. And the product is still missing key ingredients like hygiene in inner wear. She wanted to bridge this gap by embracing sustainability and an eco-friendly ideology and gave India its first hygienic intimate apparel brand - Inner Sense. Presence of The Brand: Inner Sense services around 19,000 pin codes in India via its own e-commerce website innersense.co.in and various other online platforms. The physical presence of the brand as of now is in 100 MBOs spread across Northern India and plans to grow by 25 percent month-on-month. The expansion plans also include opening 25 stand-alone stores all across the nation in the next three years. USP: Inner Sense is a disruptive healthy, organic anti-microbial lingerie brand addressing the highly underserved eco-friendly female innerwear products category. The products have natural bacteria inhibiting and anti-odour properties, have 3x more wickening than the counterpart cotton with no pesticide or carcinogen used in the production process. The brand creates a bridge between hygienic, eco-friendly and fashionable lingerie. Online & In-store Innovations: The brand is working on a very exciting innovation which offers a solution to one of the most gruelling pain points of online shoppers. It will be activated in the next quarter. Product Innovations: Most brands carry product lines based on strict category demarcations like everyday wear which is usually dull and boring or extremes like high trend styles which may go out of style very quickly. Inner Sense has innovated to provide products that fall in the sweet spot between these extremes. So, it can be said that they are comfortable enough to be worn everyday but stylish enough not to get dull or monotonous. Inner Sense is also the unsaid leader in the maternity category with the highest number of styles available.
Suchi Mukherjee, CEO and Founder, LimeRoad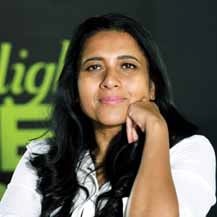 The power behind India's first online social discovery platform, LimeRoad.com,
Suchi Mukherjee
is the first Indian to receive the Cambridge Commonwealth Trust Scholarship for studying Economics at Cambridge University in 1994. She graduated from St. Stephen's College, Delhi University and procured her Master's in Finance and Economics from the London School of Economics where she won the British Chevening Scholarship. Even after staying away from India for 15 years, she came back with a trust that India has immense potential to nurture a transformational business. She conceived the vision of LimeRoad after the birth of her second child while reading a magazine during her 'me-time'. She was passionate about creating a social discovery platform for people to find affordable products in a fun and easy way. She envisaged LimeRoad, also to give power to small sellers and enable them to enter the mainstream commerce. 
Presence of The Brand:
 LimeRoad opened its first store in Surat in March 2018 which turned profitable in less than 5 months. The brand went ahead and opened its second retail store in Panipat, Haryana. LimeRoad aims to open 3,000 offline stores in the next 3 years with the vision to take high street fashion to every town in India. The brand plans to open 20 new stores in the next 3-6 months, primarily in the northern and eastern belt. 
USP:
 LimeRoad has a supplier network of 10,000+ manufacturers who inject fast fashion into the system that goes from design to live to site in less than 30 days, with winning styles getting established in 48 hours. Every user gets a completely personalised experience the app changes for each person every minute, powered both by large-data driven algorithms and the community of stylists. Users, therefore, discover fast fashion unlike anywhere else in India. Data to show which styles are winning – within 48hrs – ensures that smaller manufacturers can decide which styles to invest in, therefore dramatically reducing inventory pile up. The brand launched the India Design Centre – to bring together the highly capable designers from across the country to pump unique and cutting edge designs with excellent fits, which can benefi ts sellers who do not have access to good designs In a data-starved nation, the LimeRoad app is the lightest of all apps in the country, at ~3MB. 
Online/ In-store Innovations: 
LimeRoad stores have a clear focus on design. The stores use modular fixtures that can accommodate the change of collections and display of merchandise rapidly and effectively. LimeRoad, has disrupted the entire online fashion industry with its exclusive 'Scrapbooking Community' consisting of 4 lakh active members who express their sense of style using LimeRoad's proprietary 'Scrapbook' tool. This feature gives customers the unique proposition of marrying listings with content allowing customers to match clothes, accessories, handbags and shoes to create their own looks. The community churns out nearly 1 million looks every month presenting multiple options to consumers. These personalised style options are then pushed every 30 seconds on the app by a powerful algorithm.
Tanvi Malik & Shivani Poddar, Co-CEO and Founder, FabAlley & Indya
Tanvi Malik is an Economics graduate from Delhi's Lady Shriram College, followed up with an MBA in Brand Management from MICA Ahmedabad. Her interest in branding and marketing led her to Titan, where she was a Brand & Product Manager for high-end watches before quitting to start her dream project, an inclusive, accessible and fashion-forward brand for Indian women – FabAlley, and later Indya. She spearheads design, marketing, product and communication for the company. Shivani Poddar completed her graduation from Hindu College and did an MBA from Faculty of Management Studies, Delhi. After graduating from FMS, she was a part of the leadership program at Hindustan Unilever and specialized in the Commercial and Supply Chain function. Post HUL, she worked with Avendus Capital as a part of the Investment Banking team. At HSE, Shivani has been responsible for setting up sales and distribution, sourcing and manufacturing processes, financial systems, and fully integrated supply chain techniques. Presence of The Brand: Indya is an Omnichannel brand and has 19 brand owned stores which were launched in the last 12 months. These EBOs are PAN India and today the brand has presence in Delhi, Mumbai, Bangalore, Pune, Ludhiana and many more cities. The plan is to take this number up to about 40 stores till the end of this year. It is also present in large format stores like Central, Globus, Ethnicity and has recently been launched in Lifestyle. The plan to spend about Rs 6-8 crore on store expansions in the next 12-18 months. In the next few years, the brand has plans to set a strong foothold in international expansion. The strategy for international expansion is two pronged – online and offline. In terms of the online market - the website currently delivers to approximately 30 countries apart from India. About 35-40 percent of their orders on their own e-commerce portal are from countries such as Canada, US, UK, UAE and Saudi Arabia. The plan is to divert more marketing spends over the next few months to these countries and cater to the large NRI base in these countries. The brand has also been recently launched with Amazon US and UK. In terms of offline, the brand is currently working with a few resellers based out of Mauritius, Dubai and Sri Lanka. It is exploring further like-minded partners and is planning to add 3-4 more key international accounts during the upcoming fiscal. USP: An array of design differentiated, trendy with a twist and slightly quirky products ensure that the brands resonate with girls who have strong points of view when it comes to fashion. Below mentioned is the USP of both the brands which makes them unique in the market: Indya: • The brand is making Indian-wear relevant, versatile, trendy and glamorous, without resorting to the standard negative stereotypes attached with the category • Updating Indian wear from a bygone generation's 'cultural costume' to the modern Indian milieu by creating a differentiated product in the market • Adapting global trends and Indian runway styles to create a (previously non-existent) high street for Indian wear • Exploring the duality of Indian women's style by designing lines that keep her western experience and Indian heritage pride in mind with East-Meets-West silhouettes • Eliminating opaque, unorganized boutique shopping by providing fuss free ready to wear occasion wear FabAlley: • Every design on FabAlley is created on the basis of what is current and on-trend at this very second • Affordability lies at the core of FabAlley's DNA • Unlike International brands, the designs incorporate the Indian women's body types and cultural ecosystem • Fully integrated supply chain ensures rapid turnaround of design into collections • Data-led forecasting and meta-detailed historical analysis • FabAlley has been built on the tenets of inclusiveness, keeping in mind that the designs are not only size agnostic but also fashion forward and on-trend Online & In-Store Innovations: The brand has recently introduced digital tabloids and screens in the stores where customers can browse through lookbooks, new collections and mood-boards. This provides the user a more detailed outlook towards the brand and a sneak-peak into the upcoming collection. Product Innovations: For FabAlley, the focus is on product innovation with a premium line and expansion of their plus-sized line Curve.
Richa Kalra, Founder, Candyskin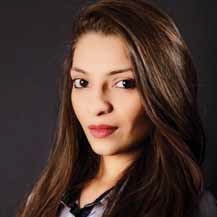 Richa Kalra, a post-graduate in Fashion Brand Management from Istituto Marangoni, Italy, has worked with quite a few international brands in London and Milan. She also had a small stint working with Madura Industrial Textiles, followed by her passion project, Candyskin She says, "There´s nothing more beautiful than a woman to feel comfortable in her own skin. We possess the most unique styles which are created with our exquisite tastes following international trends and forecasts to cater to the Indian market." With her brand, Candyskin, she looks forward to reinventing the category in India by giving it an international feel. The brand stands for luxury and comfort at its finest. Presence of The Brand: Candyskin is available pan India, through its distribution and sales network of around 240 point of sales. The brand is looking forward to the region-wise expansion and to capturing a considerable amount of market share in the lingerie segment. USP: The brand's core strength is that they are not partial when it comes to sizing unlike a lot of other lingerie products in the market. Online & In-Store Innovations: As ft is an important part of the brand, it conducts an interactive detailed size test quiz for every customer to provide them the best fit. Product Innovations: The brand has recently launched compression shapewear, these garments have targeted power zones that help slim and shape customer's stomach, hips and thighs. These are skintight apparels that stimulate blood circulation and stabilise muscles by exerting pressure at certain parts of the body. This technology helps in squeezing and squishing excessive fat making the body appear slimmer and feel better leaving smooth and slender lines under any outfit. Revenue Targets: The brand, that is working towards 100 percent growth, is eyeing a Rs 12 crore turnover.
Neha Kant, Co-Founder & CRO, Clovia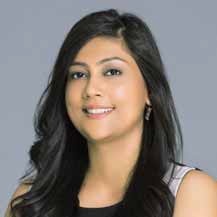 Before donning the entrepreneurial hat, Neha Kant was pivotal in setting up and growing the e-commerce engines for the India Today Group and had a short stint as Head of Digital Marketing for Business Verticals of Smile Group. She started her career with ad agency FCB ULKA where she got to learn the tenets of building brands. After a decade of experience in corporate India, she decided to start on her own to address the absence of peppy, spicy, sexy yet comfortable wear in the Indian innerwear market. With Clovia, she wants to redefine the Indian lingerie market and help customers choose beyond standard cuts, shapes, and colors. Her mantra – lingerie is a critical part of your wardrobe and it doesn't need to be drab and boring. She was behind setting up of production units of Clovia. Today, the brand offers more than 100 fresh styles every month and no inventory is more than 45 days old. Presence of The Brand: The brand serves almost 20,000 pin codes across India and has a physical presence in metros, Tier II-III cities which include Delhi NCR, Punjab, Haryana, West Bengal, Jammu, Gujarat, Maharashtra, Karnataka, Telangana, Tamil Nadu, Assam, Uttar Pradesh, Andhra Pradesh, and Madhya Pradesh. Today, the brand is operationally profitable in all sales channel post-marketing. The idea is to continue the growth, accelerate on offline channels of sales, which have been responding tremendously well to the brand. In the next 5 years, Clovia intends to be the largest lingerie brand in India. While it is steadily on that path, it is also encountering a host of organic/inorganic opportunities to grow internationally, which it is exploring and in the next 4-5 years, Clovia is expecting its presence in at least 4 more geographies. USP: Clovia is a full stack lingerie brand, which controls every part of its supply chain from mind-to-wardrobe. The brand procures raw material, design in-house, manufacture in thirdparty facilities working exclusively for them, ensure their own 4 level quality controls and sell through a host of direct sale channels. Every product that Clovia creates is first made in small quantities, monitored via a state-of-the-art backend technology, which predicts future sales (based on sales patterns and customer feedback) and recommends what further quantities should be produced. This leads to a true fast fashion brand that is low on cost (as the middlemen are cut out), high on consumer appeal and super-efficient on inventory, leading to better margins and cash flows even in a high number of SKUs/ sizes business. Online/ In-store Innovations: Clovia has introduced 'Clovia' a Fit test - their proprietary algorithm - that asks a woman 5 questions about her body type and then recommends the right bra. They have a very high customer satisfaction score here. Product Innovations: Period panties is one of their recent innovation. This range has been designed with soft and breathable cotton fabric that incorporates an in-between layer of stain-resistant and leak-proof lining. The unique hipster fit also gives high coverage and snug fit making sure that the sanitary pad stays at its place. These panties are also reusable and machine washable. Revenue Target: The brand is eyeing 200 percent growth on annual run rate. (with inputs from Gurbir Singh Gulati)