Famed Italian fashion designer Miuccia Prada once said, "Fashion is instant language". Well, who else can talk fashion better than the celebrities do? Forever in public glare, celebs are considered the perennial style icons. Like us mortals, they just cannot have a bad hair day or a fashion faux pas without making a headline – their entourage of experts and stylists ensure they are picture-perfect at all times. Fans emulate them, the fashion curious get inspired as well. What's more, celebrities' own personal style also becomes a talking point. Celebrities and Fashion are indeed inseparable and it was only time that the markets would realize the business potential of this heady mix, ushering the evolution of "Celebrity Fashion Brands".
The West and Hollywood have been the wellsprings of modern fashion culture and the phenomenon of celebrity-led fashion brands has also its roots in their very heart. Legendary American actress Gloria Swanson is said to have pioneered the trend with her own clothing line way back in 1950's. Various more celebrities have walked the path since then with varying degrees of success before fading into the mists of time. 2000 onwards, the trend started gaining serious momentum with a slew of Hollywood stars, International athletes, singers and supermodels making successful forays into the fashion business. From clothes to footwear to accessories, they are doing it all.
If international celebrities are doing it, can Indian icons be far behind? Of course not!
Of late, we have seen many A-listers in India turning fashion designers, fashion brand owners and entrepreneurs – some of them have launched their own fashion brands or lines in collaboration with established fashion companies, while others have made investments in or have set up their own fashion-focused businesses. With tremendous following, film stars and cricketers are the biggest influencers in India. Not surprisingly, nearly all celebrity fashion brands so far have come from them. John Abraham is the first Indian actor to release his clothing line in 2006. After a hiatus, Salman Khan launched his fashion label in 2012, followed by Hrithik Roshan in 2013 and Virat Kohli in 2014. The trend has been on the constant uptick from then on.
Celebrity advertisements and endorsements have always been there. We also have had celebs lending their name to products such as signature fragrances. But now, we are moving beyond the 'age of advertisements and endorsements' into the 'era of advocacy' wherein Millennials, Generation Z, Aspiration, Inspiration, Relevance, Resonance, Connection, Higher Purpose are the catchwords for brand success. Today's consumers don't just buy a product; they seek an idea or concept they can actually relate to. For celebrity brands, the celeb's persona, charisma and relatability are the USPs – the brand story, philosophy and core values are likewise significant, however.
Even as the celebrity-led brands enjoy the patronage of their fan base and have relatively an easy start, they also have to toil to gain wider audience and reception. There are so many brands out there and the consumers are spoilt for choice, literarily. It goes without saying that the new breed of Indian celebrity brand owners is sagacious and diligent. They are making wellthought- out moves with brand concepts built around their persona, unique positioning, selecting right partners, passionate commitment and involvement, product differentiation, understanding the market and consumer, disruption and innovation, to cultivate great brands and sustain them. Most importantly, they acknowledge that the product is the real hero and no amount of celeb power can salvage a bad product.
Indian Celebrity Fashion has truly arrived!
And with this has evolved a new category in the Indian fashion industry. The celebrity brands are not only affirming their presence across offline and online retail channels in India, a few have already expanded into international markets also. As many more celebs continue to launch themselves into the fashion business, it seems that the phenomenon of celebrity-led fashion brands is more than a passing fad and is here to stay.
Images BoF spotlights some of the most recognized homegrown fashion and lifestyle brands curated and/or created by our very own Indian celebrities. These brands inarguably have a distinct advantage and a bright future lies ahead of them.
ALL ABOUT YOU
All About You is a premium women's wear brand co-owned by Bollywood actress and style icon Deepika Padukone and Myntra Designs Private Limited. This is not Deepika's first fashion venture. Earlier also, she had co-created a line exclusively for Van Heusen. After spending several months designing and perfecting the collection in association with French design agency Carlin and Myntra's in-house design team, Deepika had launched her first collection of All About You in October 2015. The brand has been growing from strength to strength as it goes on to expand its customer base across India.
The Brand Concept
All About You offers both western wear and ethnic wear for women. It aims at bringing the point forward that women are their own strength and can deal with any ordeal in their lives. The clothes are simple, classic, elegant but most importantly comfortable and imbibe Deepika Padukone's inherent style. The brand brings not only fashionable casual wear but also formal wear. Hammered satin, jacquards, blended knits, denims, and woolens are some of the special fabrics that have been embraced by this brand.
Product Portfolio
Targeted at women aged 20-45 years, the All About You range includes suits, kurtis, tops, shirts, skirts, dresses and lots more.
The Celebrity Effect
Known for her fashion sense, Deepika inspires millions of women who want to emulate her style. Daughter of India's Badminton legend Prakash Padukone, Deepika also pursued the sport during her teen years but soon found her calling in modeling that eventually became her springboard to movies. With a stormy debut in Om Shanti Om in 2007, the doe-eyed beauty went on to fortify her standing with many more hits like Cocktail, Peeku, Ram Leela and Baji Rao Mastani. Of late, she has made her Hollywood debut as well. She has also set up a foundation to champion the cause of mental health in India.
Getting Wider Reception
Deepika's association with All About You has made the brand popular among the youngsters. True to its motto 'Celebrate, have fun, because it is All About You', the brand caters to every young woman who believes in her individual style. The clothes from All About You go with the changing trend and are known for the comfort and balanced look that it provides. Also, the collections are reasonably affordable.
Current Presence
Currently the brand is available online only. The brand is exclusively retailed on Myntra and Jabong.
BEING HUMAN
Being Human Clothing was launched by Bollywood superstar Salman Khan and Mandhana Retail Ventures Ltd (MRVL) in 2012. The brand supports the twin causes of education and healthcare of Being Human – The Salman Khan Foundation. Salman Khan has been a key contributor in the making of the brand, actively giving design inputs, ideas or inputs with regards to the brand. MRVL has got exclusive global rights to manufacture, retail and distribute Being Human clothing.
Says MRVL CEO Manish Mandhana, "Being Human is not a regular brand; it's a brand with a heart which has three USPs – philanthropy, celebrity and fashion. We were confident that when these three powerhouses are at the crux of a brand it will have a global acceptance in any language."
The Brand Concept
"Being Human Clothing personifies six humane expressions: love, care, share, hope, help and joy. These positive and strong values are embedded in our DNA and reflect in our thoughts and action; apparels to store designs," describes Mandhana.
The line is a personality extension of its founder, Salman Khan; simple and yet stylish. Targeted at mid to premium consumer segment, the brand covers the entire urban middle and urban mass, with age bracket of 18 to 34 as its core consumer. In line with the brand philosophy, a percentage of every sale of a Being Human product goes to the foundation.
The Celebrity Effect
An actor, producer, television personality, singer and philanthropist, Salman Khan is one of the most influential Indian celebrities whose fame has transcended beyond borders. Due to his close association, Being Human Clothing enjoys a wide recall value. Traits are an integral part of any brand – it is what defines a brand and makes it stand out in the market.
As per Mandhana, "Salman Khan being our brand ambassador, we have to keep in mind the associations the consumers would attach to his personality and design the clothes as per that. Of course, there has to be a seamless co-existence of his traits and trends in the collection. For example, our athleisure line is very popular and it reflects the casual and comfort wear Salman Khan is often seen in."
Getting Wider Reception
Being Human Clothing over the years has meticulously architected its competitive positioning in terms of brand, product offering, pricing and target market. Mandhana apprises they have a strong in-house team of designers who work diligently to craft each garment on our brand portfolio with a deep understanding of customer aspirations and prevailing societal trends.
He further elucidates, "Our customer base is of people who believe in international fashion, follows latest trends and wants to do good but indirectly. Being Human gives them a platform to "Look Good, Do Good". We are associated with people of every age either by fashion or by our cause."
Product Portfolio
The brand caters to both men and women. The men's range comprises t-shirts, shirts, polos, denims, tracks, shorts, chinos, sweaters including accessories like belts, wallets and caps. The women's range has shirts, t-shirts, tops, skirts, dress, denims, shorts, pants, chinos, sweaters plus accessories like flip flops, wristbands and socks.
Current Presence
As of now, the brand has more than 600 points of sales across 15 countries including 29 exclusive stores in India. This also includes tie-ups with leading online fashion stores and many more and partnerships with popular retail chains.
Expansion Plans
Being Human Clothing closed its business calendar for the retail year 2017 at Rs 21,830.17 lakh. MRVL plans to expand the brand's physical retail presence by opening 40 to 50 exclusive stores in the next 2 to 3 years.
HRX
An active and sports-inspired lifestyle brand, HRX is coowned by Bollywood's actor Hrithik Roshan, Myntra and Exceed Entertainment. The brand is a mélange of Hritik's brand attributes and core beliefs.
"I strongly believe in the philosophy of healthy living which is integral to the brand HRX – it is not just about being fit, but truly undergoing a transformation in your lifestyle and understanding the connection between mind and body. What is most remarkable about HRX is that it creates solutions for its customers through various partnerships like Myntra, Cure. fit and Xiaomi," states Hrithik Roshan.
"Hrithik's mantra of pushing your extreme to become the best version of yourself is the foreground for this brand. We aim to revolutionize the fitness scenario in India, as a value-for-money, high-quality alternative to international brands," says HRX Co-Founder Afsar Zaidi.
The Brand Concept
Targeted at both men and women, HRX caters to the fitness enthusiasts in the age group of 20-40 years. The brand takes off from various facets of Hrithik Roshan's lifestyle and fitness regime to create value offering for consumers in relevant categories. Products are also inspired by his personal experiences. For instance, shoes are designed and created keeping in mind the need and feedback from a fitness enthusiast that Hrithik himself is – they are specialized to handle flat feet, are more efficient for runners, etc.
The Celebrity Effect
Good looking, versatile and one of the finest actors, Hrithik Roshan is called the Greek god of Bollywood. Committed to a healthy lifestyle, his fitness journey from unfit kid to best physique in Bollywood is an inspiration for everyone. As per Zaidi, HRX is a platform for Hrithik to voice his own journey, inspirations, learning, failure and success. It is a medium to inspire people with almost two decades of learning from his career and personal growth.
"Hrithik's involvement pans out from ideology to product to communication. He is the main guiding star for HRX, literally and figuratively," he underlines.
Getting Wider Reception
HRX has been envisioned to serve as a platform for bringing like-minded people together to endorse his philosophy of becoming the best Fashioning a healthy you version of them.
The brand essentially draws on Hrithik's persona, however, Zaidi also adds, "Global trends in fashion are closely followed and integrated into design aesthetics, styling and quality or ensuring that the consumers are offered the best value for their money with every purchase. Product and design innovation with a continued focus on new category introductions will drive the sales."
Product Portfolio
The brand offers activewear categories like workout tees, tracks, jackets, women's workout gear and footwear, among others. HRX forayed into women's collection a couple of years ago and is working on growing the category now.
Current Presence
Currently retailed online, HRX reaches pan India through Myntra, Jabong and their parent, Flipkart.
Expansion Plans
Complementing its online presence, the brand has plans to go offline by late 2018.
NUSH
Model, actor and film producer Anushka Sharma had always wanted to extend her entrepreneurial ability to a sphere that is close to her heart i.e. Fashion. Realizing her desire, she has jointventured with Suditi Industries to launch her own western wear brand 'Nush'.
"For me, entrepreneurship was a natural ambition. A clothing line emerged as a good choice because I am inclined towards wearing comfortable, fashionable outfits. I love high street styles. More than strategic, it's a matter of interest to me," she tells.
About the collaboration, Suditi Industries Chairman & Managing Director Pawan Agarwal says, "Our celebrity association is to deliver the buyers with something fresh and thus, create a new product segment. Anushka for us has her own fashion appeal and is a very workable icon for an everyday style statement."
The Brand Concept
The brand caters to girls and young women aged 18 years and above. It offers affordable western outfits with lengths, forms, fabrics and silhouettes that are more suitable to wear in India. As per Anushka, there's a bit of her fashion sensibility and sense of style in all pieces, and they have worked towards providing enough styles so that there's something for every woman at Nush. She has worked closely with Suditi's in-house team on almost every aspect of the brand creation i.e. from design to distribution. Agarwal apprises that it is a mutual know-how exchange and both parties continue to work together to enhance the brand reputation.
The Celebrity Effect
The star of Hindi films 'PK', 'Sultan' and 'Rab Ne Bana Di Jodi, Anushka prefers sporting chic, comfortable fashion. The model-turned-actor has always loved good clothes that look stylish, enhance her personality and make her feel comfortable.
About the evolution of celebrity brands, she underlines that celebrity-led fashion labels and clothing lines have proliferated as celebrities are followed and considered aspirations by many people, especially the youth. Anushka has a distinguished fashion appeal among the youth and her fashion sense is mostly relatable, feels Agarwal.
Getting Wider Reception
Even though celebrity brand is a niche concept but it is not limited to their comfy yet stylish fan base. There are many people who may not be die-hard fans of a celebrity but may still love what we create for them using his or her persona, Agarwal maintains. Anushka's on-screen persona enjoys a reputation for styling and fashion in clothing.
"But in her real life, she identifies with the simplicity of styling and fashion in routine. Why will people not invest money in something so sketched for the ordinary?" he quips.
Product Portfolio
Nush has made its debut with A/W 2017 collection that includes matching printed separates, midi dresses, short dresses, sweatshirts, embroidered denims and jackets.
Current Spread
The brand is available at Shoppers Stop in the large format stores, online on Myntra and across various shop-in-shop stores pan India. In addition it will also be retailing via own website.
Expansion Plans
Launched in October 2017, the brand is looking to establish itself as a notable presence in the Indian market. Says Anushka, "The response to Nush has been very positive but it's still early days for us. We hope to get bigger and better."
ONE8
India's leading athlete Virat Kohli is gradually evolving into a fashion powerhouse. Having tasted success with Wrogn, Kohli has now launched his new brand One8 – a collection of athleisure wear, reflective of Virat's personal belief. The launch of his brand is backed by the movement 'Come Out and Play', which aims to bring about a ground swell invoking Indians to adopt an active lifestyle, where playing is an integral part.
One8 athletic leisure range has been developed in collaboration with PUMA, the fastest growing global sportswear brand in the world. PUMA is providing design, product, retail and communication channels for the One8 brand.
Says PUMA global ambassador and athlete Virat Kohli, "The One8 range is very close to my heart. It is my way of calling out to Indians to Come Out and Play, because feeling fit and looking active is a simple step towards leading a more active lifestyle. The collection is very versatile and is a mix of fashion and functionality.
I have been deeply involved in the design and ideation behind the products, with PUMA designers even browsing through my wardrobe for inspiration! Partnering with PUMA to create One8 is also great because the brand is such a fit with my personality and will ensure that 'brand One8' is constantly evolving."
"Virat Kohli is an inspiration and role model for the youth today. He has carved a niche for himself by pursuing his dreams and is the perfect example of how sport can make one a well-rounded individual. We believe collaborating with Virat is the right direction for both the brand and a movement as important as Come Out and Play," stated PUMA India Managing Director, Abhishek Ganguly.
The Brand Concept
According to Ganguly, "The One8 collection is the perfect blend of style and sport – for every person looking to easily transition from work to play. It reflects Virat's effortless style, while staying true to his philosophy of an active lifestyle."
The name of the collection, One8, is derived from Virat's jersey number, 18 – a number that is special to him and which he holds in high regard. The One8 logo is unique, quirky and stylish – reflective of Virat's persona. Each piece of the One8 collection demonstrates his bold and dynamic personality while staying true to his passion for pursuing an active lifestyle. By incorporating subtle branding, look and feel, PUMA has emphasized the simplicity of Virat's personal style, while bold graphics are infused to connect with Virat's on-field persona. Across the collection, PUMA has used premium fabrics crafted with a contemporary style.
Product Portfolio
While the One8 line currently comprises athleisure apparel, performance apparel, footwear and accessories will be introduced in the upcoming season.
Current Spread
Besides PUMA stores across the country and on in.puma.com, Virat's exclusive One8 collection is also available on Myntra.
One8 X Lux Industries
Following the launch of his One8 athleisure wear collection with Puma, Indian skipper Virat Kohli has also signed an exclusive brand licensing agreement with Lux Industries to launch his own premium men's innerwear and sleepwear range under the brand name 'One8'. The partnership is similar to that with Puma wherein Lux Industries will design, manufacture and market the One8 innerwear and sleepwear range that includes socks, briefs, trunks, vests, boxers, sleepwear and socks.
On association with Lux Industries, Virat Kohli stated, "With One8 we intend to make a substantial inroad in men's premium innerwear segment and I am glad to partner with Lux Industries as they have the right expertise to augment growth. I am extremely passionate about One8 as a brand and now feel confident about establishing the brand and reaching out to the right audience in India and abroad."
The partnership between Virat and Lux Industries is clearly a mutually beneficial relationship for both. While the 10-year licensing deal marks Virat's entry into the premium men's innerwear segment, it is also expected to further strengthen Lux's market position in the Indian innerwear segment. The tie-up with Kohli's One8 brand will also give a fillip to Lux Industries' global ambitions of expanding its presence in international markets.
RHESON
Bollywood actor Sonam Kapoor is inarguably India's quintessential fashionista. However, her uber chic appearances have been orchestrated and curated by a team of experts helmed by sister Rhea Kapoor. No wonder, the stylish siblings decided to launch their own brand 'Rheson,' which is a portmanteau of their names, phonetically pronounced reason. The duo has collaborated with Shoppers Stop for their brand.
About the association, Govind Shrikhande, Customer Care Associate & Managing Director, Shoppers Stop Ltd, says.
"Fashion and Bollywood are intrinsically linked and partnering with celebrities for fashion brands is a mutually beneficial relationship. When India's leading fashion retailer collaborates with India's leading fashion icons, it's a match made in heaven."
The Brand Concept
Targeted at young fashionistas, Rheson is a complete embodiment of Rhea and Sonam's style statement and personalities. Each piece of the collection is distinctive, unique and home-grown in the truest sense. Shrikhande elucidates, "The design sensibility and concept comes from the girls and our team executes what they have in mind. We do our best to bring their vision to life with our long-term retail experience. Together we work on sampling, manufacturing and finally bringing the products to a store near you."
The Celebrity Effect
At the brand launch, Rhea Kapoor had stated, "Sonam and I wanted to create a brand keeping the Indian girl and her sensibilities in mind. According to me, glamour should be accessible to you, no matter who you are.
Sonam Kapoor said, "We wanted to work on something that is owned by us and had our personal touch on every level. We did not wish to create a couture brand. Our forte lies in the fact that our clothes should become your best friends.
According to Shrikhande, "The celebrity fashion brands are usually inspired by the celebrity's style persona but also factor in overarching fashion trends and our customers' buying insights."
Getting Wider Reception
The brand is meant for every Indian girl no matter her age or her body type. Rhea and Sonam Kapoor's style hugely coveted, but they are also very relatable. And that can be seen in the way Rheson has been conceptualized, designed, priced and promoted.
Shrikhande affirms "Rheson has been very successful since its launch so we believe it has nailed a hit formula. The brand already enjoys a huge amount of popularity and recall. In fact, during the first phase of our launch, we got calls from customers in many tier II towns enquiring about the brand."
Product Portfolio
The brand offers both casual and quirky day wear and a mix of western and indo-western evening wear. The chic and peppy collection features wearable styles with modern silhouettes, all impeccably tailored from finest quality materials.
Current Spread
Available in 55 Shoppers Stop stores as well as online on its shopping site, the brand is now also sold on Shoppers Stop's exclusive flagship store on Amazon.in.
Expansion Plans
Apropos Rheson's further expansion, Shrikhande shares, "This should be one of the fastest growing brands for the next several years. The global expansion would be a priority, once we have established it across India".
SEVEN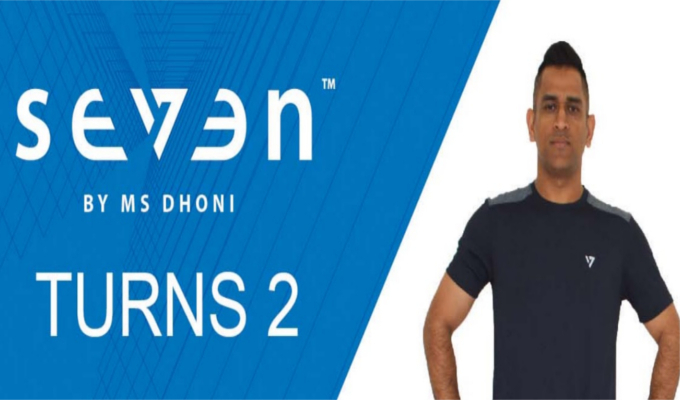 Former Indian cricket captain MS Dhoni has launched his sports and fitness brand 'Seven' with Rhiti Group. While unveiling the brand in 2016, Dhoni who is also Seven's global brand ambassador had stated, "The 'Seven' ambition is all about making fitness an intrinsic part of everyday life. I believe, you don't have to be a professional athlete to take your fitness seriously. All you need is the motivation to lead an active lifestyle. The thought process and positioning of Seven really excites me and I think it will strongly resonate with the youth of India as well.
About the collaboration, Arun Pandey, CMD of Rhiti Group says, "Seven is inspired by MS Dhoni, one of the greatest sports legends of our country. We truly believe in justifying the brand salience of MS Dhoni and his pinnacle of achievements by becoming the countries number one homegrown sports iconic brand."
The Brand Concept
Named after Dhoni's jersey number and his birth date, Seven aims at applauding the professional athlete but also recognizes the amateur strife for excellence. The brand primarily caters to youth in the age group of 16 or older. Dhoni has been a continuous part of the products development procedure since inception.
As per Pandey, "The products are designed keeping in mind industries latest trends and technologies. However, there is a touch of MS Dhoni in each of our product be it the print, the material, colours or the design."
The Celebrity Effect
Referred to as 'Captain Cool', Dhoni is regarded as one of India's greatest and most successful cricket team captains. Seven is inspired by his journey and hard work from a small town boy to becoming a global brand.
"Our belief is that 'Iconic brand builds Iconic brands'. MS Dhoni is the determinant of one the highest level of performance, sport and fitness and Seven is a perfect reflection of these characteristics. Our brand personality and ideologies meet that of MSD's in positioning Seven as an enabler of a healthy and active lifestyle," affirms Pandey.
Product Portfolio
The collections comprise a broad range of active lifestyle footwear, apparel and accessories for both men and women, with running and training being the current core categories.
Getting Wider Reception
MS Dhoni's fan following inarguably falls across all age groups. Pandey, however, also underscores that while conceptualizing a brand it is very important to have a focused target age group as the entire collection is designed as per their preferences and inspirations.
"Hence, it's not just MS fans that we target at but also young enthusiasts who believe in leading an active lifestyle," he shares.
Current Spread
With its first exclusive store opened in July 2017 in Ranchi, the brand's current distribution network comprises over 350 outlets and 45 plus key accounts stores. Seven is also sold online on Myntra, Jabong, etc, and its own portal, 7.life.
Expansion Plans
While increasing its reach across channels, Seven plans to have 200 exclusive brand stores by 2020. Moreover, the brand is also eyeing global expansion.
TRUE BLUE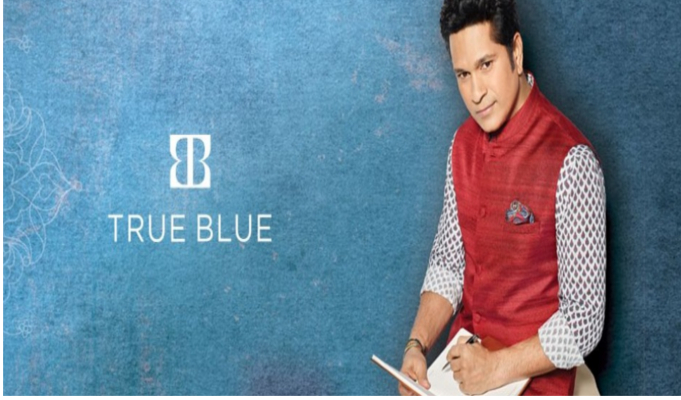 Bidding farewell to his 24 years of splendid cricketing career, the batting maestro Sachin Tendulkar decided to take a shot at the entrepreneurial world and how! Last some years have bore witness to the gradual transformation of Brand Sachin to Enterprise Sachin. The master blaster's current portfolio comprises a diverse mix of own, partnership and invested businesses, including SRT Sports, a sports management firm; Kerala Blasters, the Kochi ISL franchise; 'Sachins' and 'Tendulkar's' restaurants; Musafir, an internet travel firm; Smaaash, a sports simulation company; and celebrity merchandise and brand extension company, Universal Collectabilia. With the launch of True Blue menswear brand, Tendulkar has taken a direct plunge into the fashion business.
The Brand Concept
Incepted in 2016, True Blue is a joint venture partnership between Sachin Tendulkar and Arvind Group. Positioned as a premium men's apparel and accessories brand, True Blue re-interprets traditional Indian heritage in the modern context, making it relevant to the spirit of the global Indian - a modern traditionalist - comfortable in his skin and someone who seamlessly blends - in either New Delhi or New York. The brand's primary target audience is men aged between 28 and 40 years andit doesn't see itself expanding into women's fashion.
The Celebrity Effect
True Blue is very subtle, with its own way of making a loud statement just like Sachin's own taste, what he likes to wear. The brand symbolizes modern India and Sachin being home bred, admired and loved by all over the world yet unchanged by success reflect the brand DNA. Designed and led by Sachin's personality, the collections showcase styles inspired from the heart of India. What's more, he has personally spent time with the design team to create the collection. The brand seeks to engage men across the globe by dressing them in superior fashion.
Product Portfolio
The brand offers an extensive range of men's wear, including t-shirts, finely-crafted shirts, slimfit trousers, denims and luxurious blazers. In the future, more categories like accessories, footwear, belts, etc, will be added.
Current Spread
True Blue's first offline store was rolled out in May 2016 in Mumbai (High Street Phoenix), quickly followed by a second store in Bengaluru. Having added two more locations in Mumbai, the brand presently has four stores. The brand's online presence includes NNNow.com, an Arvind platform and partner e-commerce portals Myntra and Amazon.
Expansion Plans
While launching, True Blue had announced its plans to open 25-30 stores pan India in the near future. Once the business is established in the home market, the brand also has plans to go global.
TYAANI
Bollywood's most celebrated filmmaker Karan Johar has recently launched his own fine jewellery line Tyaani in collaboration with Satyani Fine Jewels. Tyaani also prides itself as the world's first and only Polki jewellery store online.
Shares Shravan Satyani, Owner, Tyaani.com, "We had reached out to Karan to discuss creating a line of bridal jewellery inspired by his unique brand of cinema and the many iconic looks they have spawned. However, Karan believed that what the Indian woman really needs is a fast-fashion equivalent of jewellery. Jewellery that is traditional yet modern, Indian yet international and designed for everyday wear, not just for special occasions."
Made of uncut natural diamonds, Polki jewellery by Tyaani reflects Karan's vision – to create a shift in the way Polki is worn and perceived.
The Brand Concept
States Karan Johar, "Tyaani.com is an extension of me; it's a piece of my heart. The whole idea was to make sure that our brand travelled far and wide, and made jewellery accessible to millions of women across the world. The fact they're not worried and daunted that the jewellery is going to be overwhelming either look-wise or price-wise is the way forward for online shopping. When you go online you expect to get the best quality and also the best price and I think that's what we do at Tyaani."
According to Shravan, Karan's contribution is not limited to conceptualization but even extended into jewellery designing, branding and distribution.
The Celebrity Effect
A man of many talents, Karan Johar is a style icon, writer, producer, director, talk show host and so much more. Through the medium of Bollywood, he is able to touch the lives of people across the country, across genre, gender, age, economic strata, location, etc. Admired for his personal sense of style, Karan has also been a stylist and fashion designer.
Shravan underlines that when a brand is co-created with a strong dynamic personality like Karan, the brand reflects who he really is, with strong nuances of his personality.
Getting Wider Reception
Tyaani's Polki jewellery is for everyone, no matter their gender, age, location, etc. With prices ranging from `10,000 to ` 1,50,000, every piece is EGL certified, making it one of the first Polki brands to be internationally accredited. With focus on quality and transparency, the brand controls the entire process right from design and manufacturing, all the way to the final distribution.
"Our entire aim is to democratize Polki, bringing into the Polki category an element of transparency that hasn't existed up till now," affirms Shravan.
This industry is a highly fragmented disorganized market place, and Tyaani is striving to bring order and transparency to the chaos. Thus giving rise, to a whole new way of doing business – protecting the end consumer, while enabling the artisan, he tells.
Product Portfolio
The brand's women's collections include daily wear, party wear, bridal, festive, birthdays and anniversaries, with products like earrings, rings, necklaces, bracelets, pendants, tikkas and chandbalis. The men's accessories comprise cufflinks, buttons and sherwani buttons.
Current Spread
Besides its own online store,Tyaani also has a flagship store in Mumbai.
Expansion Plans
Besides tie-ups with franchisees pan India, Tyaani is also rolling out its products on other platforms, including B2B, retail standalone franchisee outlets, trade fairs across the country and retail shows across the world.
IMARA
A refreshing take on tradition, Imara is a women's ethnic wear brand designed and conceptualized by Bollywood actress Shraddha Kapoor. For her foray into the fashion business, the actress has found an ideal partner in celebrity fashion company Universal Sportsbiz Pvt. Ltd. (USPL). The launch of Imara in early 2015 is dream come true for Shraddha, a fashion aficionado herself who always wanted to create her own fashion line. Providing creative direction in terms of the design and the overall look of the collection, Shraddha has experimented with ethnic designs, offering a refreshing touch on fashion, for the young and the stylish.
The Brand Concept
Imara is a modern Indian adaptation of classics themed across eight stories - Blue Pottery, Mughal, Spring Blossom, Damask, Monochrome, Lucknawi, Indigo and Boho. The brand is a seamless blend of fashion and mystique that brings together the elements of ethnic and chic designs. Imara is a fusion word which means strong and resolute for - a powerful, independent woman. The clothing line is meant for the woman of today who believes in writing and starring in her own stories, taking charge of her own life, in her own way.
The Celebrity Effect
The multi-talented Shraddha Kapoor has starred in films like Aashiqui 2, Ek Villain, Rock On II, earning her a huge fan base. Her sense of style - subtle, easy yet elegant – mesmerizes one and all. Mostly seen in clean-cut designs combined with strong prints, her garments perfectly complement her petite figure and add to the felinity and the delicate beauty that she perfectly portrays. Her signature looks, generally comprise of neatly done hair, well-fitted silhouettes with minimalistic jewellery and glossy yet unostentatious make-up. With Imara, Shraddha shares her sense of style with her fans and admirers. The brand's collections are inspired by her persona making the lines an extension of herself.
Product Portfolio
The brand has collections in tops, bottoms, accessories, jackets, sets and sweaters. The product portfolio includes short tops, kurtas, kurtis, kaftans, tunics, boleros, dresses, ponchos, knit churidars, patialas, palazzos, leggings, skirts, dhoti pants, shorts, trousers, capri, stoles, shrugs, jumpsuits, sweaters and so on.
Current Spread
Apart from its exclusive brand stores in select cities, Imara also sells through Shoppers Stop stores across India. In the e-commerce space, the brand is available on its own website Imara.in and partner fashion portals, Myntra and Jabong.
Expansion Plans
USPL is looking to further expand the retail horizon for Imara. Alongside exclusive stores, the brand plans to ramp up its presence by partnering with other large-format retailers and known regional multi-brand retailers also.
MS. TAKEN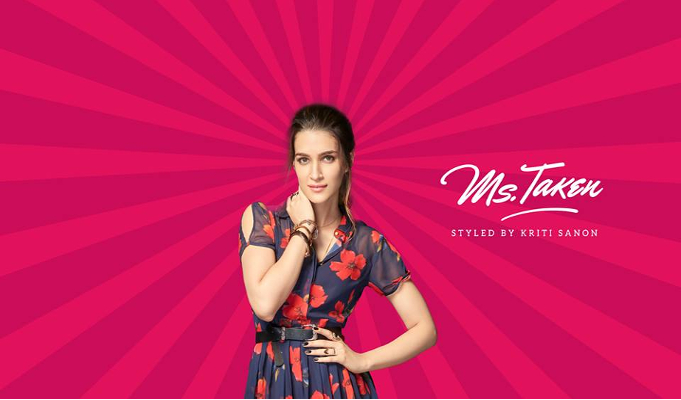 Founded in 2016, Ms. Taken is a signature women's western wear line by Bollywood diva Kriti Sanon. For her maiden fashion venture, Sanon has collaborated with Universal Sportsbiz Pvt. Ltd. (USPL), which also has other celebrity brands Wrogn and Imara. She has worked closely with the brand's design team to curate her line. While launching her label, Sanon was quoted as saying that there are days when she simply wants to pair up a classic white tee with blue jeans and, for her, that is fashion. Ms. Taken is also a reflection of her sense and style. Though the women's western wear segment in India is fairly challenging, the brand aims to offer a strong and compelling proposition.
The Brand Concept
A youth-oriented fashion line, Ms.Taken is for the bold and carefree woman of today. True to its tagline, "Life isn't serious. Live a little. Be #MsTaken", the brand epitomizes the young, selfassured and independent Indian woman who expresses her individuality and walks her own path. The brand, with its premium, progressive and carefree positioning, offers affordable western wear attuned to Indian sensibilities. It recreates a women's wardrobe for every day as well as special occasions.
The Celebrity Effect
Starting out as a model, Sanon made her acting debut with southern films and eventually landed in Bollywood. With noted Hindi flicks Heropanti, Dilwale, Bareilly Ki Barfi under her belt, the gorgeous actress has also garnered much attention for her brilliant sense of fashion that has catapulted her to style diva status. Many young girls and women identify with her fashion philosophy that is effortless yet sophisticated. Her apparel line finds favour among the young, style-savvy and confident women who love wearing western outfits.
Product Portfolio
The brand offers a broad assortment of casual and semi-formal women's wear with categories including tops, tunics, dresses, trousers, jackets, denims and more. The collections are eclectic and vibrant, exuding the brand theme in cuts, styles, silhouettes, fit and colours.
Current Spread
Currently, the brand is available in shop-in-shops format in select Shoppers Stop stores. It is also available online on fashion portal, Myntra and Jabong.
Expansion Plans
Ms. Taken has completed one year. USPL is now also looking at having exclusive brand outlets for Ms. Taken and scouting for the right property to open the brand's flagship store.
WROGN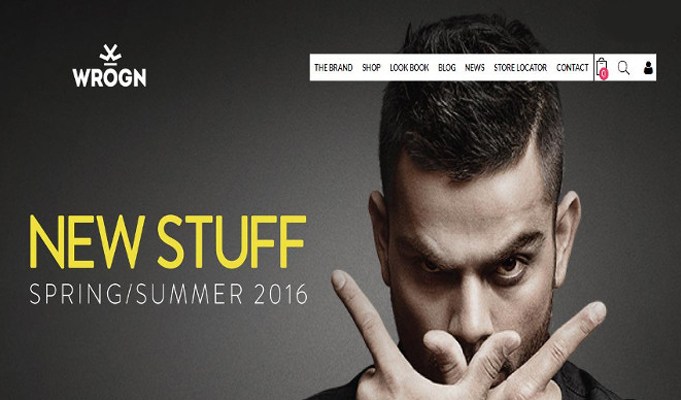 Indian cricket youth icon Virat Kohli forayed into the fashion industry by launching his own menswear brand 'Wrogn' in partnership with Bengaluru's Universal Sportsbiz Pvt. Ltd. (USPL). Started in November 2014, Wrogn has swiftly established itself as one of the fastest growing Indian youth brand, with notable offline and online presence in India.
States Virat Kohli, the co-owner/ curator of USPL's brand Wrogn, "I am keenly looking forward to taking Wrogn to all the right places in India and beyond. I have always believed that Wrogn was the right decision for me."
The Brand Concept
Wrogn is a break-away youth fashion brand which is inspired by the distinctive sense of style and the youth appeal of cricketing genius, Virat Kohli, and as such, it reflects his brand personality. The brand is targeted towards open minded and progressive young men, who like to make their own choices in life. Conceptualised by Virat in collaboration with brand's design team, the collections are made with particular focus on fit and style. Wrogn is experimental in its ethos and product philosophy and encourages the male youth to question the status quo around them. Quintessentially quirky, the brand strives to give consumers good quality, keeping it affordable.
The Celebrity Effect
Known for his on-field flamboyance, Virat is also fond of wearing good clothes and styling himself well off-field. He effortlessly transforms himself into one dapper man with a great sense of style. Wrogn, as such, is an extension of Virat's bold and dynamic personality which is expressed in each piece of clothing. In the nutshell, the brand is notonly backed by Virat but its design philosophy is deeply rooted in his personal taste in fashion and style preferences.
Riding on his distinctive sense of style and enormous youth appeal, Wrogn is set to evolve into a big, consistent and trustworthy brand.
Product Portfolio
The brand's product range is as diverse as shirts, t-shirts, joggers, shorts, trousers, jeans, sweatshirts, sweaters and shoes. The brand's funky philosophy is translated through trendy design quirks.
Current Spread
Wrogn has recently expanded into the northeast market with its new stores in Siliguri and Guwahati. The brand now has 15 exclusive stores located in cities like Mumbai, Bengaluru, Hyderabad, Nagpur, Bilaspur, Vijayawada, Guwahati, Baroda and Siliguri. In addition, the brand is also retailed via Shoppers Stop stores besides being available online on its own website, Myntra and Jabong.
Expansion Plans
Continuing to expand in the home market, the brand is now looking to spread its wings overseas also.
YWC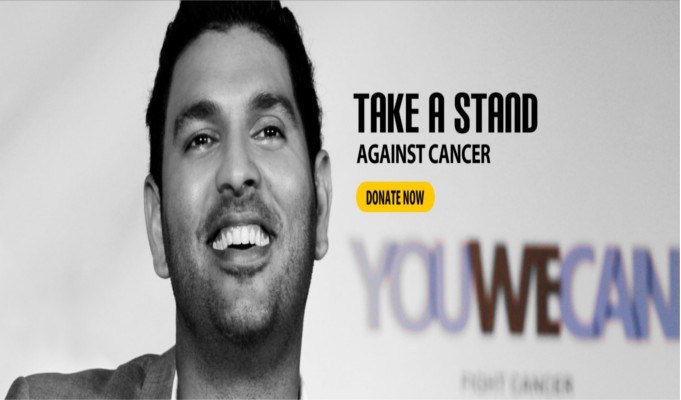 India's star all-rounder Yuvraj Singh, known for his sporting prowess, has turned entrepreneur. The launch of his own clothing brand 'YWC' in September 2016 marked his entry into the business of fashion. The brand is born out of Yuvraj's personal journey through cancer that led him to start YouWeCan, an NGO, particularly for cancer survivors and patients. The objective of starting the fashion label was to ensure steady funding for the initiative and make it self-sustaining. Deeply involved in the creation of YWC label, Yuvraj has joined hands with Mumbai-based Suditi Industries who will license, and manufacture the brand.
The Brand Concept
YWC is positioned as the homegrown premium sports lifestyle brand that includes lifestyle and fashion apparel for kids to adults. The brand conceptualised around Yuvraj's philosophy of 'Live, Dare and Inspire' incorporates the urban silhouettes and techniques to keep wearer's fashion game on point. Products are made from high-quality material with focus on innovation in production and design. A part of the sale proceeds gets donated to YouWeCan foundation.
The Celebrity Effect
Immensely popular among sports lovers, Yuvraj is recognized for his dashing and matured looks, which in turn, are accentuated by his dressing sense. YWC combines futuristic designs with a sporty style, underlining his signature style statement. The brand finds favour among dedicated fans as well as fashion-forward shoppers who admire his sense of styling. The first year into its operations, YWC fashion label had registered a top line of ` 10 crore in the financial year 2016-17.
Getting Wider Reception
The core of the brand YWC is Yuvraj's own journey through a dreaded disease and coming out victorious. His daring, inspiring, spirited attitude and persona is endearing to people from all walks of life. The brand's key purpose is to nurture his philanthropic endeavours and it seeks to engage a larger audience to support, therefore. Nonetheless, the brand is for everyone who loves its products and styling.
Product Portfolio
YWC is available in two different product lines –The Gold Line and The Core Line. The former features a designer wear by Shantanu & Nikhil, whereas the latter is a trendy activewear for everyday life. The brand offers an assortment of topwear and bottomwear for men, women and kids, with the bulk of collections targeted at men. The YWC Kids collections and accessories are the recent addition to the brand's wide portfolio.
Current Spread
The brand is retailed offline across over a 100 store touch points. Its first-ever standalone outlet opened in Varanasi in August 2017. In online space, the brand is available on Myntra and Jabong besides its own portal, ywcfashion.com.
Expansion Plans
YWC Fashion plans to roll out some more across key cities and ramping up its online presence. Eventually, the brand plans to expand nationwide.