India's promising consumer ecosystem has bolstered its attraction as a top emerging consumer market. The nation, over the past few years, has opened its gate to some of the biggest brands in the fashion world and their success has continually enticed others to explore the opportunities. The Indian consumer market grew fiercely post liberalization. And, after the global financial crisis of 2008, while the world's major consumer markets – the US, Europe and even the Middle East – were reeling under immense pressure, the Indian market has not just been more stable but quite resilient. Naturally, it catches the fancy of foreign retailers and an increasing number of brands came forth to try their luck in the calmer Indian waters.
Apart from India's rapidly expanding economy and consumption boom, one of the foremost drivers that propelled the nation to this vantage is the government's continued support to relax FDI regulations in key areas of the retail sector. The UPA Government, since it came to power, has been concentrating to make India a much more open economy to the world, and has brought in radical changes to boost FDI and create a suitable climate for foreign investors. The measures seem to have borne some fruits, with India surpassing China and 29 other countries to top the 16th edition of Global Retail Development Index (GRDI) of 30 developing economies, for ease of doing business.
As expected, the big global fashion brands that enter India find comfort in partnering with major national incubators like Reliance Brands, Arvind Brands, ABFRL, Amazon, Myntra, etc. And these have been instrumental in facilitating the passage of the largest list of brands into India this year too. All, except Arvind Brands which had already announced that 2017 would be a year of consolidation and not of launches for them. While Reliance Brands helped the entry of brands like Bally, Kate Spade New York and Scotch and Soda, ABFRL brought in Simon Carter, and Amazon made available to the Indian consumers a slew of infl uential brands like Under Armour, Steve Madden and Juicy Couture. Espirit, that had exited the Indian market in 2012 after a lukewarm response has returned in partnership with Myntra. So too has Mango. Interestingly, Myntra will not only retail their products online but will also help the brands establish their offline presence. A select few brands have also entered India directly via their Indian subsidiaries, or found value in partners that can extend support across the value chain from manufacturing to retail.
In the following pages we feature some of the most significant fashion brands that have entered the Indian retail scene in the year 2017. Apart from these, the media was also abuzz with reports of the entry of a few other brands like Saucony, Bovet, Isaia, etc., who reportedly also launched themselves in India this year, but, unfortunately we failed to elicit their participation/confi rmations by time of going to print.
SIMON CARTER
Simon Carter's uniqueness is embossed in its quirky, yet sophisticated and stylish designs straddling full range of men's clothing and accessories. With a conspicuous presence of heritage and tradition in its collection and an uncompromised attention to detail and quality, the brand philosophy is rooted in a tradition of eclectic English style, taking classic forms and adding a twist of eccentricity. The Simon Carter men's wear collection is a playful mix of prints and colours, tailored fit for the modern man to give them a sense of exuberance and style and at the same time, offering men the opportunity to develop their own sense of style.
Indian Partner - Aditya Birla Fashion and Retail Limited (ABFRL) brings together the learnings and businesses of two renowned Indian fashion icons, Madura Fashion & Lifestyle and Pantaloons Fashion and Retail. ABFRL is India's No 1. Fashion Lifestyle entity with a combined revenue of Rs 6,633 crore for FY17, growing at a rate of 10 per cent and EBITDA of Rs 476 crore for FY'17 that has grown at 18 per cent over the last year.
Global Retail Presence - Simon Carter holds the distinction of being the most successful international designer with seven standalone designer brand stores in some of the most posh locales in the UK. His much sought-after collections are retailed in some of the most exclusive department stores and independent retail outlets in 35 countries around the world including Liberty, Bloomingdales (USA), Seibu (Japan), Brown Thomas (Ireland), and David Jones (Australia).
BALLY
Bally is a Swiss luxury brand established in 1851, anchored in an exceptional heritage of shoe-making. Bally was founded by Carl Franz Bally and his brother Fritz in the basement of their family home in Schönenwerd in the Canton of Solothurn, Switzerland. Bally is known for its cutting-edge design and engagement with contemporary architects. The idea was originated when he decided to buy a pair of lace-up booties for his dear wife in Paris. By the 1870s, the company was known all over the world as the leader and pinnacle of footwear industry. At present, the company is headquartered in Caslano, Ticino, Switzerland and has boutiques in almost all the major cities and countries across the world. Today the brand offers unique and vibrant designs across accessories, ready-to-wear and eyewear.
Indian Partner: Reliance Brands Limited is part of the Reliance Industries Group. The company began operations in October 2007 with a mandate to launch and build international and domestic brand equity in the premium to luxury segment across apparel, footwear and lifestyle business.
Global Presence: As a heritage luxury brand, the brand is present in all the major cities and countries of the world China, Japan, Hong Kong, India, Malaysia, Vienna, Berlin, Hamburg, Munich, Ingolstadt, Dusseldorf, London New Bond Street, London Heathrow, Bicester, Hackney, Manama, Kuwait, Olaya street in Riyadh, Abu Dhabi and Dubai, Atlanta, Beverly Hills, Boston, Costa Mesa, Honolulu, Houston, Las Vegas, McLean and New York City.
Flagship Store in India: Bally launched its first flagship store in New Delhi's renowned luxury shopping destination DLF Emporio Mall. The store has launched with the brand's Autumn Winter 17 collection including women's and men's shoes, accessories and leather goods. This season the collection evokes the mood of a gentleman's club in 1970s New York City, which can be seen in the striking contrast of opulent evening dress and urban sportswear. The New Delhi store incorporates design by David Chipperfield Architects, boasting luxurious walnut panel walls and tile flooring laid with wool and silk-blend carpets in pink and green, separating the women's and men's collections.
KATE SPADE NEW YORK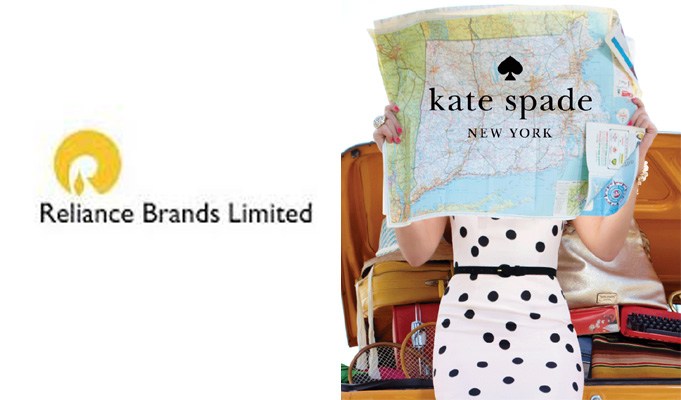 It all started back in 1993, when Kate Brosnahan Spade, a former accessories editor at Mademoiselle, set out to design the perfect handbag. Debuting with just six silhouettes, she combined sleek, utilitarian shapes and colorful palettes in an entirely new way. and so Kate Spade New York was born. Women and fashion editors fell for the fresh, modern sensibility alike and the brand's first shop in New York city swiftly opened in 1996. As the company grew, its graphic approach and trademark wit created a visual shorthand for a brand recognizable the world over. Today Kate Spade New York has grown into a global lifestyle brand, and aims to inspire colorful living through its range of handbags, apparel, jewelry, shoes, stationery, eyewear, baby, fragrance, tabletop, bedding and gifts.
Global Presence: Apart from the USA and Canada, Kate Spade New York has its retail footprint across the world including Australia, Cambodia, Chile, France, Hong Kong, Indonesia, Ireland, Macau, Mexico, the Middle East, New Zealand, Phillipines, Saipan, Singapore, Okinawa, Taiwan, Turkey, Vietnam, etc.
Retail Presence in India: Kate Spade New York was launched in India in April 2017 in DLF Emporio, Vasant Kunj and Select City Walk, Saket. The store's collections include handbags, small leather goods, shoes, jewellery, fashion, tech accessories, watches, eyewear and stationery from the brand's latest Spring 2017 collection, which has a Moroccan feel. It also is available online with selected e-commerce portals.
SCOTCH & SODA
Scotch & Soda has been around since the '80s, but the Amsterdam based fashion brand, as we know it today, originated in a brave new start in 2001, when three new owners joined forces and gave it a complete facelift. Today, the brand has became synonymous with unique styles driven by an infi nite curiosity in the world and free-spirited, irreverent thinking. The brand's search for eclectic, worldly inspiration manifests itself in collections that mix and clash eras, classics, places of inspiration; meshing unexpected fabrics and patterns. The stories in the collections – the sign of quality and craftsmanship. Men's, women's and children's collections are all created and crafted crafted to the last button, stitch and detail.
Global Presence: Scotch & Soda currently boasts over 160 monobrand stores worldwide, more than 7,000 other sales points and a fully up to date online presence with and integrated webstore, blog and social media
Retail Presence in India: Under the long-term master franchise agreement, Reliance Brands will set up Scotch & Soda stores in all major cities in India by 2017. As of now, the brand is present in Palladium Mall, Mumbai and Mall of India, Noida. Reliance will grow the brand through other channels of sale in India, such as ecommerce, travel commerce, and leading multi-brand department stores.
MANGO
Mango was founded in 1984 and is today one of the leading fashion groups in the world. Based in its city of origin, Barcelona, the company has an extensive store network of 2,200 stores (over 800,000 m2) in 110 countries. From its "El Hangar" Design Centre in Palau-solità i Plegamans, every year it designs 18,000 garments and accessories for wearing the season's trends. The company, which owns the Mango Woman, Man, Kids and Violeta lines, closed 2015 with sales of 2.327 billion euros, representing a 15 percent increase on 2014.
Mango is an internationally famous multinational which designs, manufactures and markets women's and men's clothing and accessories. The brand is best known for dressing the modern, urban women for her daily needs. Mango bases its logistics on an in-house system which has developed progressively since the opening of its fi rst store in 1984 until the present day, in which Mango has become Spain's second largest textile exporter.
International Retail Mapping: Mango currently has a total of 2,731 stores in 105 countries worldwide. Their expansion continues with the recent openings have taken place in cities of the stature of Tokyo, Beijing, Erlangen, Verona and New Delhi.
Retail Strategy: Mango's expansion plan consists of 25 store openings in India over the next 5 years. Its fi rst store was launched in October 2017 at Select Citywalk Mall, Saket, New Delhi, with the second store expected at Phoenix Mall very soon. To enhance the shopping experience, all Mango stores in the country will feature integrated inventory and the concept of Endless Aisle, enabling customers to browse the Mango collection on a tablet, check out product details and availability, and have goods from other stores delivered to their doorstep. Customers will also be able to skip queues at billing counters, using the Assisted Checkout feature on tablets.
Omnichannel Activation: Myntra will now be responsible for managing Mango's omnichannel presence including Mango.com, offline stores in the country as well as the brand's presence on its own platform. Myntra's position as the leading fashion and lifestyle destination with over 18 million monthly active users along with Jabong as well as its ability to use technology to create unique customer experiences helped establish it as the partner of choice for Mango. The move compliments Myntra's offl ine strategy and will serve as a distinguishing platform by creating the right omnichannel experience for customers.
ESPRIT
Founded in 1968, Esprit is an international fashion brand that pays homage to its roots and expresses a relaxed, sunny Californian attitude towards life. Esprit creates inspiring collections for women, men and kids made from high-quality materials paying great attention to detail. All of Esprit's products demonstrate the Group's commitment to make consumers "feel good to look good". The company's "esprit de corps" refl ects a positive and caring attitude towards life that embraces community, family and friends - in that casual, laid-back Californian style. The Esprit style.
Group History: Esprit is an international fashion brand that represents style and quality since 1968. Founded in San Francisco by Susie and Doug Tompkins, Esprit works on a basis of creativity and responsibility, fused with a sunny Californian attitude. Effortless style, authenticity and easy-going living are at the heart of the brand's philosophy. These positive values shine through at every level, from the laid-back tailoring to the made-to-last quality, use of natural materials and responsible production. Esprit's aspiration is to be the best casual fashion brand with an outstanding price-value proposition: capturing market trends and newness in colour, quality fabrics and shapes, and expressing them in the effortless, relaxed and comfortable Esprit style.
International Retail Mapping: Esprit has a presence in 40 countries with 761 directly managed retail stores and over 6,332 wholesale points of sale, including franchise stores and sales spaces in department stores, who share the company's quality standards and brand essence, with inspiring collections for women, men and kids. The Group markets its products under two brands, namely the Esprit brand and the Edc brand.
Plans in India: As of now, Myntra retails a wide collection of Espirit apparel and accessories. But as part of the alliance, Myntra is also expecting to manage at least 15 offl ine stores across India for Esprit over the next fi ve years. The brand will also be sold online on Myntra owned fashion retailer Jabong.
Omnichannel Activation: Esprit has performed extremely well on Myntra's platform. This partnership will enable Myntra to leverage its data driven insights to establish and strengthen Esprit's omnichannel presence in the country. The move compliments Myntra's offl ine strategy and will serve as a distinguishing platform by creating the right omnichannel experience for customers.
LITTLE M.A.C
M·A·C (Make-up Art Cosmetics), a leading brand of professional cosmetics, was created in Toronto, Canada in 1984 and is part of The Estée Lauder Companies, Inc. The company's popularity has grown through a tradition of word-of-mouth endorsement from makeup artists, models, photographers and journalists around the world. M·A·C is now sold in 110 countries/territories worldwide. Little M.A.C is a new line of M.A.C products available in travel-ready sizes. This is the fi rst time the collection is available in India.
Parent Company: The Estée Lauder Companies Inc. is one of the world's leading manufacturers and marketers of quality skin care, makeup, fragrance and hair care products. The company's products are sold in over 150 countries and territories under brand names, including: Estée Lauder, Aramis, Clinique, Prescriptives, Lab Series, Origins, Tommy Hilfi ger, M·A·C, Kiton, La Mer, Bobbi Brown, Donna Karan New York, DKNY, Aveda, Jo Malone London, Bumble and bumble, Michael Kors, Darphin, Tom Ford, Smashbox, Ermenegildo Zegna, AERIN, Tory Burch, RODIN olio lusso, Le Labo, Editions de Parfums Frédéric Malle, Glamglow, By Kilian and Becca.
Indian Partners: Myntra is India's leading platform for fashion brands and pioneer in m-commerce play. Myntra has partnered with over 2000 leading fashion and lifestyle brands in the country to off er a wide range in latest branded fashion and lifestyle wear. Myntra services over 19,000 pin codes across the country. With the largest inseason product catalogue, 100 percent authentic products, Cash on Delivery and 30-day Exchange/Return policy, Myntra is today the preferred shopping destination in India.
SELECTED HOMME
Established in 1997, Selected Homme is premium menswear fashion brand, with a strong focus on quality, premium fabric and fi t. The brand is is all about premium fabrics and classic styling with a strong focus on quality and epitomizes good taste in every shape and form within modern men's wear. The brand stands for a unique interpretation of the contemporary man, who is both individualistic and confi dent in his style. The collection complements the modern lifestyle and seamlessly adapts to the fashion preferences of young as well as mature men. The brand target consumer is a global traveller, urban and laid back cool man. He mixes and matches his existing wardrobe with the season's newcomers in order to create a distinctive, exciting look.
International Retail Mapping: The brand has 2,700 branded chain stores across 38 markets worldwide and the products are sold in approx. 15,000 MBO's and department stores. Selected is available on online shops as well.
Retail Mapping in India: Selected Homme launched its fi rst store on the 5th of May 2017, at Palladium Mall, Mumbai and currently has 40 shop fronts, spread across 14,3992 sq.ft, in both metro cities and tier -II and -III locations such as Bhubaneshwar, Ludhiana, Jaipur and Vijayawada etc., that spreads out across the country. The brand is also present in the online space via Jabong and Myntra.
Future Plans in India: Bestseller India looks forward to expanding Selected Homme in India in a very aggressive manner. Globally, it has seen a very promising growth for the brand and hopes to replicate the same in India. For the next couple of years, it has planned to add around 15 shop fronts in multiple markets. It especially is looking forward to expanding in markets like Delhi, Pune and Kolkata.
JUNAROSE
Junarose is a European plus size fashion brand that is dedicated design for sizes 38 to 54. It is a fashion brand off ering trendy clothes for the young, trend conscious plus size woman. Each of the collections are carefully fl attering cuts and details that each style embraces the silhouette perfectly. Key product categories are dresses, tops, jeans, knit, outerwear and swimwear.
International Retail Mapping: Present in 10 European countries well as in the Middle East, North and South America. The can found in independent department stores chains as well online shops.
Retail Mapping In India: The fi rst shop front of Junarose was opened in DLF Place, Saket, New Delhi. Junarose is currently present in Mumbai, Bengaluru, Chennai, Delhi, Gurgaon, Ludhiana and Jaipur. The strategy at Junarose is to not to focus only on urban markets. The brand is also available on e-commerce portals like Myntra and Jabong.
Future Plans for India: The company has an exciting vision for Junarose in India. It wants to make the plus sized women switch from simply functional clothing to trendy fashionable outfi ts. Never compromising on quality and comfort, Junarose will continuously present a fresh take on seasonal trends and fashion must-haves.
FRUIT OF THE LOOM
Fruit of the Loom is one of the oldest brands in the world with the trademark being registered in 1871 which makes it older than even Coca Cola. The American brand is built on a foundation of high quality products based on iconic product design. All of this is delivered at a price that delivers great value. Fruit of the Loom is positioned as a family brand with products targeted towards the entire family. Robert Knight, the founder of Fruit of the Loom started the company in 1851. With growing recognition of the product, he registered the brand making it the 1st trademark registered in the American patent offi ce. Fruit of the Loom gradually spread across Europe in the post world war years till 2001 when it was bought out by Berkshire Hathaway.
Indian Partners: Oban Fashions is a wholly-owned subsidiary of Rupa and Company Limited, the number one knitwear company in India. Oban fashions was launched with the vision to give consumers a life of quality, comfort and style by giving them access to international brands. It started off operations in 2016 with the launch of FCUK underwear and in 2017, it successfully acquired the license to market and distribute Fruit of the Loom in India.
International Retail Mapping: The brand's strongest market still lies in the USA, where it is sold across Walmart, Target, Kohl's and Amazon.
Retail Strategy: The brand aims to make Fruit of the Loom a household name in India through distribution, large format stores, e-commerce portals and exclusive brand store across the nation.
MINISO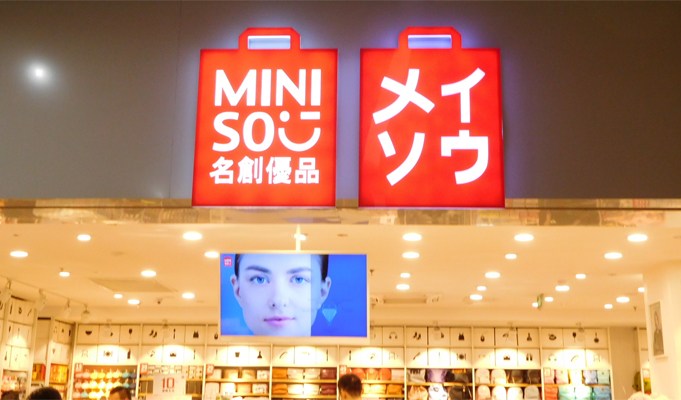 Established in Japan in 2013, Miniso is a Chinese low-cost retailer and variety store chain that specializes in household and consumer goods including cosmetics, stationery, toys, and kitchenware. Today, the brand has evolved as an innovative retail giant, specializing in products over twelve categories to target every aspect of life. Steered by the philosophy of "simple, natural and quality" and a brand proposition of "back to nature, return to basic", the brand devotes itself to providing customers with quality, creative and low-price products. By virtue of its excellent designs and high quality, Miniso becomes an iconic fi gure for global "intelligent consumer products", with popularity trending upward among millions of consumers, accumulating more than 20 million followers on global social media accounts.
First Store in India: Miniso launched in India on 18th August in Ambience Mall, Vasant Kunj, New Delhi. Spread over 2,000 sq. ft.,
Global Presence: Miniso generated USD 1.5 billion in 2016. Nearly 2,000 MINISO stores have been set up globally with an average growth rate of 80-100 stores per month. Currently, the brand has established subsidiary corporations in many countries, such as United States, Canada, Russia, Singapore, the United Arab Emirates, Korea, Malaysia, Hong Kong (China), Macau (China), Germany, Brazil, South Africa, Indonesia, the U.K, India, Egypt and Pakistan, creating over 20,000 job opportunities throughout the world. By 2019. As of now Miniso has reached strategic cooperation agreements with more than 50 countries around the globe and has plans to open 10,000 stores in over 100 countries, with annual revenue reaching USD 15 billion.
Brand Positioning: Miniso is positioned as a fast fashion brand and is deemed as "the strongest competitor" by Muji, Uniqlo and Watsons. It also is labelled as the "NO. 1 Competitor" by Apple distributors in the Chinese market.
Future Plans in India: Miniso plans to open 210 stores by the end of 2018 and take the count up to 800 by 2019. It also is eying at Rs 10,000 crores revenue in by the end of 2019.
ONITSUKA TIGER
Onitsuka Tiger celebrates Japanese craftsmanship and focuses on sophisticated design and luxury details. Appreciated the world over for its heritage and modern fl air, Onitsuka Tiger is a sport inspired fashion brand that has designs ranging from updated classics to refreshing new styles and collaborations with like-minded artists. Constantly branching out and collaborating with a variety of creative souls from visual artists to fashion designers, the spirit of Onitsuka Tiger has uplifted its sport fashion trademark into the fashion and lifestyle scene. The fashion conscious, and the avid sneaker-collector, all three segments are drawn to the Onitsuka Tiger brand because it is all those things and more.
Group History: Established in 1949, the company was started by Kihachiro Onitsuka in Kobe Japan, under the Onitsuka Corporation name with a humble idea that sport had the power to transform lives. A pioneer in the market for decades, the company developed innovative ideas and technology actively until 1977. In 2002, Onitsuka Tiger was revived with a more refi ned style as a sports fashion brand.
Indian Partner: Asics has been developing sports shoes and apparel for more than 60 years now. In this time innovation has been the key to the brand's introduction of design philosophies that have revolutionised the world of sports. At its research and development centre in Kobe, Japan, it works in close collaboration with male and female athletes to create highly innovative sports product solutions.
International Retail Mapping: Onitsuka Tiger's rich heritage and Japanese craftsmanship, combined with its timeless aesthetic is now increasingly worn and seen on the streets around the world. The brand is currently present across 25 countries with about 200 stores worldwide. Footwear is the lead category contributing to about 90-92 percent of total sales, while apparel is close to 7-8 percent. Globally, it is aiming a sizeable growth in the apparel category.
Retail Mapping India: Asics India Pvt. Ltd. has partnered with Burgundy Hospitality in India for the distribution and operations to launch Onitsuka Tiger's fi rst-ever-mono-brand store in India. The response has been overwhelming and the company sees huge potential in other metros and tier-I cities such as Mumbai, Delhi, Bangalore, Hyderabad, Chandigarh, Pune, etc.
Future Plans in India: Asics India Pvt. Ltd., will focus on establishing mono-brand stores in the country under a partnership with franchisees. Eventually, we will be ramping up distribution of products through regional distributors and e-commerce portals. The company also plans to double digit the Onitsuka Tiger store count in next three to four years, achieving a sizeable growth by 2020.
SPRINGFIELD
Springfield was founded in 1988 with the objective of dressing urban and cosmopolitan young men. The brand's focus is to deliver wellmade natural and easy care clothing that can be mixed, matched and easily adapted to different styles. Since 2006, Springfield has also targeted the female market with its range of its smart casuals. Today, Springfield works with a team of more than 2,000 professionals who take immense pride and care over every detail of the design, production and sale of its fashion.
Springfield is owned by the Grupo Cortefiel, which is one of the Europe's leading fashion retailers with a sales network of over 2,000 stores. The company operates in 89 countries and is composed of five chains: Cortefiel, Pedro del Hierro, Springfield, Women'secret and Fifty Factory.
Partners in India: Tablez India, part of LuLu Group International, has introduced leading global brands in F&B, toys, lifestyle and apparel to India. It holds the master franchise rights for Springfield and Women'secret in India and Sri Lanka. Tablez currently operates more than 35 outlets globally and plans to expand to 250 outlets by 2020.
Retail Presence: Springfield has presence in 941 stores across 73 countries around the world. The brand launched its debut store in India in July 2017 in Phoenix Market City Mall, Whitefield, Bangalore and added its second store recently in December in High Street Phoenix, Mumbai. The brand is retailed in India through through a mix of large format flagship stores and exclusive brand outlets in India.
Future Plans in India: Springfield aims to expand its retail presence in India to 9 stores by 2018. It also aims to reach a store count of 75 by 2021 and focus specially on the SIS format.
WOMEN'SECRET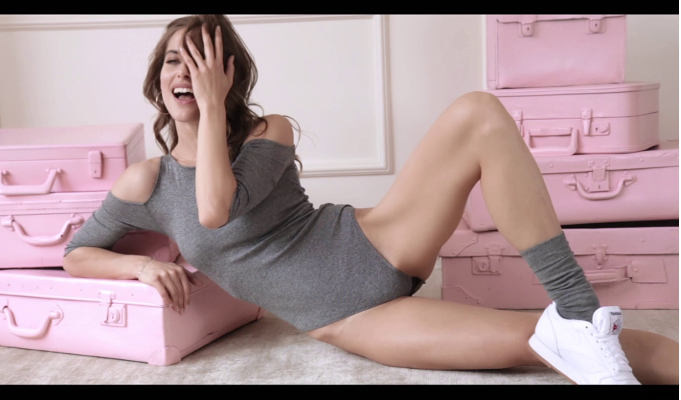 Women'secret is a Spanish innerwear brand that offers lingerie, sleepwear, beach wear, home wear, accessories and swimwear for today's woman. As a a brand created for and by women, it brings forth exciting new ideas to make life simpler and more fun. A part of the Grupo Cortefi el, Europe's fi fth biggest textile group. Women'secret was created in 1993, and the fi rst store opened in the centre of Madrid, Spain. The objective was to become a leader in creativity, effi ciency and sensitivity in the intimates sector. Its success has been unstoppable and in 2001 the fi rm embarked on its international expansion strategy.
Indian Partners: Tablez India, part of LuLu Group International, has introduced leading global brands in F&B, toys, lifestyle and apparel to India. It holds the master franchise rights for Springfi eld and Women'secret in India and Sri Lanka. Tablez currently operates more than 35 outlets globally and plans to expand to 250 outlets by 2020.
Retail Presence: Globally, the brand is present in more than 630 stores across 50 countries. The brand debuted in India in July 2017 with it's fi rst store in Phoenix Market City Mall, Whitefi eld, Bangalore. After warm response from Indian consumers, the Women'ssecret successfully launched its second store in High Street Phoenix, Mumbai.
Future Plans in India: The brand plans to open 42 Women'secret stores which would be spread across Metros including Delhi, also we would be present in the cities like Pune, Ahmedabad and Chandigarh.
UNDER ARMOUR
Under Armour, Inc. is an American company that manufactures footwear, sports and casual apparel. Under Armour's global headquarters are located in Baltimore, Maryland with additional offi ces located in Amsterdam. Under Armour is one of the fastest growing sports brands globally and has rapidly grown over the past few years. It has taken on the likes of Nike and in fact overtaking the adidas Group in US thereby becoming the No.2 Sportswear brand in the US. The brand debuted in India with Amazon Fashion in 2017.
History: Under Armour was founded in 1996 by Kevin Plank, a then 23-year-old former special teams captain of the University of Maryland football team. As a fullback at the University of Maryland, Plank got tired of having to change out of the sweat-soaked T-shirts worn under his jersey; however, he noticed that his compression shorts worn during practice stayed dry. This inspired him to make a T-shirt using moisture-wicking synthetic fabric. Plank initially began the business from his grandmother's basement in Washington, D.C. He spent his time traveling up and down the East Coast with nothing but apparel in the trunk of his car. His fi rst team sale came at the end of 1996 with a $17,000 sale. Plank soon perfected the design creating a new T-shirt built from microfi bers that wicked moisture and kept athletes cool, dry, and light. Major competing brands including Nike, Adidas and Reebok would soon follow in Plank's footsteps with their own moisture-wicking apparel. Under Armour received its fi rst big break in 1999 when Warner Brothers contacted Under Armour to outfi t two of its feature fi lms, Oliver Stone's Any Given Sunday and The Replacements. In Any Given Sunday, Willie Beamen (played by Jamie Foxx) wears an Under Armour jockstrap. Leveraging the release of Any Given Sunday, Plank purchased an ad in ESPN The Magazine. The ad generated close to $750,000 in sales, and nine years after starting the company, Plank fi nally put himself on the payroll.
The following year, Under Armour became the outfi tter of the new XFL football league, gaining even more attention during the league's debut on national television. Following this, the brand successfully raised USD12 million from Rosewood Capital in 2003 and USD 153 million as it IPOd on the NASDAQ in November 2005.
Global Retail Mapping: In late 2007, Under Armour opened its first full-line full-price retail location at the Westfi eld Annapolis Mall in Annapolis, Maryland. It has also opened several specialty stores and factory outlet locations in Canada, China, and 39 states including the opening of its fi rst Brand House in Baltimore in 2013 and second Brand House in Tyson's Corner, Virginia
Partnerships and Associations: Over the years, the brand has been offi cially associated with a a slew of events and institutions including 2014 Winter Olympics, North American Soccer League, UCLA, Major League Baseball, Cal Ripken World Series, University of Notre Dame, along with NC State, Arizona State, and other Division I football teams. The brand is also known for it's partnerships with prominent sports personalities, esp NBA athlete Stephen Curry and PGA golfer Jordan Spieth. Originally signed to Nike, Curry joined with Under Armour in the 2013 off season. He eventually went on to become a twotime NBA Most Valuable Player Award winner and one of the most popular athletes in the world.
India Strategy: As sports is emerging as a fast growing fashion category in India, this is one of the most important brand launches in India for some time in the sports segment, especially considering the popularity of the brand in the US. The brand is extensively banking oon Amazon to shape their India strategy by providing data on size, colour and assortment which do well in the Indian market. The brand started retailing on Amazon India with core apparel, footwear and other offerings and is expand the catalogue eventually. The brand aims to market the product offering with global athletes it is associated with and go on to associate with local sports teams and athletes to educate them about the brand.
JUICY COUTURE
Known for its signature LA style to women all over the world, Juicy Couture is a glitzy and fun lifestyle brand. Embracing its LA heritage, Juicy discovers the couture in the every day, and delivers an element of surprise in all of its designs. Founded by Pamela Skaist-Levy and Gela Nash-Taylor in 1997, the brand turned into a global seller with their signature velour tracksuits that it designed for Madonna in 2001. Madonna. Juicy Couture is a global fashion fad when it comes to contemporary smart informal wear and dress clothing has also been proudly flaunted by pop icons like Jennifer Lopez, Britney Spears, and Paris Hilton. The brand's product basket also encompasses apparel, handbags, shoes, intimates, swimwear, fragrance, accessories, sunglasses, yoga and babywear.
Global Presence: Juicy Couture Black Label Collection is available in approximately 200 Juicy Couture Stores, Juicy Couture Outlet Stores and select department stores in approximately 60 countries throughout North America, Europe, Asia, Latin America, Africa and the Middle East.
Indian Portfolio: The brand has launched only its range of watches in India. The entire range consists of over 100 Juicy Couture watches and will be available for one day or two day guaranteed delivery through Amazon's membership program Prime.
STEVE MADDEN JEWELLERY 
Steve Madden revolutionized the fashion industry with footwear and other accessories and consistently continues to set trends, merging many years of experience with unique and creative designs. The brand's innate understanding of trends and unparalleled willpower have resulted in millions of customers worldwide and propelled his designs to the forefront of fashion. Drawing inspiration from rock n roll and his New York roots, founder and designer Steve Madden launched the eponymous brand in 1990 to provide fashion conscious men and women with an outlet to express their individuality. Today, the brand has expanded into a true lifestyle and destination for footwear, handbags and accessories, sold in over the world.
Global Presence: Globally, Steve madden products are retailed across 80 countries including Baharain, Chile, China, Belgium, UAE, Greece, Jordan, Peru, the UK, Venezuela, Kuwait, Macau, Honduras, Hong Kong, Egypt, Guatemale, Dominican Republic, etc.
Retail Presence in India: The brand was launched on 10th of July 2017 exclusively on Amazon. The brand has made available a new and fascinating range of jewelry ranging from earrings, bracelets, necklace, chokers, chain, keychains, pendants, rings and charms for its Indian consumers
LUMINOX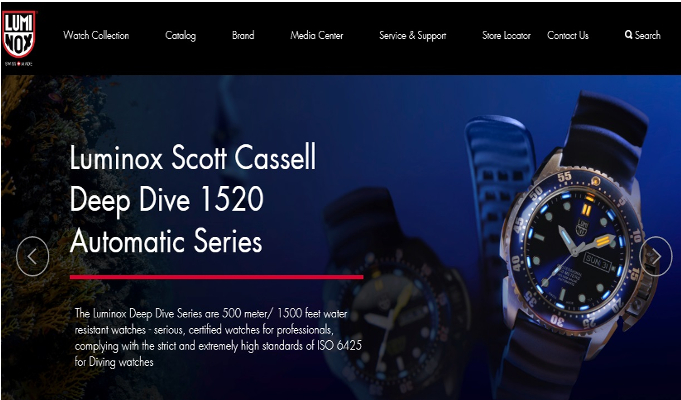 Luminox, the original selfpowered luminous watch brand, is the watch of choice for U.S. Navy SEALs, Lockheed Martin's F-117 NighthawkTM stealth and other jet fi ghter pilots, elite forces worldwide and professional divers. Luminox watches glow up to 25 years in any light condition. Always visible, tough, powerful and accurate, Swiss-made Luminox is the ultimate night vision gear for rugged outdoorsmen and other peak performers.
Indian Partners: Helios is a chain of watch stores by Titan Company Limited that houses the widest range of international watch brands in one destination. The retail brand's stellar collection is a fi ne showcase of masterpieces that exhibit craftsmanship and designs that represent timeless tradition, and embrace innovation. Helios has over 57 stores in India across 27 cities off ering more than 40 international watch brands in swiss, premium, high fashion and fashion segment.
Brand Positioning in India: Luminox is positioned as an adventure and outdoor watch for young Indians who want to experience super strong and high performance Swiss sports watches. It has very aff ordable price points so the brand is optimistic about Sales.
International Retail Mapping: Globally, the brand is available at about 3,500 retailers with the USA being the biggest market, housing about 800 points POS. It is distributed via 60 distributors around the globe.
India Strategy: The brand's retail partnership with Helios allows it tremendous fl exibility to decide how to position the brand and how to plan its sales strategy. The brand operates through SIS format with excellent in-store promotion using video displays and high emphasis on staff training and events involving adventure activities.
Retail Strategy: Luminox would start by being present is 12 POS across the 8 metros. This would be the roll out in the fi rst 12 months. The plan is to then open 24 more POS depending on the markets that are receptive to the brand, and Helios' recommendation.